Victory Lap for Vinegar Pie, Winner of the makesmewanna SHOUT! Pie Baking Challenge
ANNOUNCEMENT: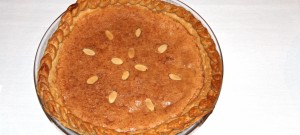 Who would've thought?  A traditional Vinegar Pie was the winner of the Makes-Me-Wanna SHOUT! Baking Challenge's first pie competition.  The Final Five event was held at Eatonville Restaurant where the winning Old-Fashioned Vinegar Pie will join Eatonville's dessert menu as "The Eatonville Old Fashioned."   Previous prize-winning desserts include the Coconut Cake (2011) and Chocolate Trio Cake (2012).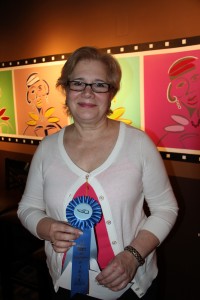 The Blue Ribbon went to Annalee Ash (Washington, DC) for the Old-Fashioned Vinegar Pie, a homemade dessert associated with farmers using basic ingredients that can be found in any kitchen.  The recipe emerged from an exchange between Annalee and a close friend.  Annalee hadn't baked in 40 years, "not since high school home economic class," she said.  She relearned baking techniques with the help of family, friends and a King Arthur Flour Pie Essentials DVD.   The judges and pie tasters were impressed with the texture and flavor of the crust.  But the pie itself was the big surprise – delicious, hands down.
Annalee submitted the following pie story as part of her entry form:
This is an old recipe from farm wives who needed a dessert that could be whipped up quickly with ingredients that are always on hand for unexpected company or to provide a delicious big-farm mid-day dinner finish for extra help working on the farm.

It actually tastes like a lemon chess pie, and I very seldom ever tell what exactly it is until someone's already tried the first bite. It's quick, easy and delicious! And very pretty too…..Very suitable for a fancy meal's end with company – or the preacher!
The seven official contest judges tasted pies by the 5 finalists that emerged from the semifinals event held at Martha's Table in March – a total of 10 pies competed.  The final results were announced by Michon Boston, producer and creator of the Makes-Me-Wanna SHOUT! Pie Baking Challenge presented with Eatonville Restaurant.
"Say 'vinegar pie', and there's that sour face reaction, until you taste it," said Ms. Boston.  "That's the beauty of the baking challenge.  It allows people to try something new, and find a new favorite."
Annalee is sharing her prize money with her recipe swap friend.  She and Eatonville Restaurant Executive Chef Rafael Nunez will be at Macy's Metro Center Thursday, May 16 (5 – 7 PM) for the launch of the department store's "American Icon" campaign.  There will be free pie samples, copies of the Vinegar Pie recipe, and a door prize.
In addition to the $500 first prize, Annalee Ash receives a $250 gift card from King Arthur Flour for their online catalog, a 3-hour consultation with operation: eatery to get a baking business on the right foot, and an appearance with J.C. Hayward (judge) on WUSA9.
At the finals event, Martha's Table board member and James Beard Foundation award winner Joan Nathan (challenge judge) and Martha's Table's President/CEO Patty Stonesifer invited Annalee to demonstrate her pie baking skills at Martha's Table, the 2013 beneficiary for the Makes-Me-Wanna SHOUT! Pie Baking Challenge.
OTHER RESULTS:
2nd Prize ($300 and $150 King Arthur Flour gift card) went to Meredith Newmark (Silver Spring, MD), for her Triple-Crust Cast-Iron Skillet Apple Pie;
3rd prize ($200 and $100 King Arthur Flour gift card) went to Cheryl Thompson (Washington, DC) for her Cheryl's Nice and Naughty Sweet Potato Pie.
Runners Up:  Maureen Severin (Crofton, MD) – German Chocolate Cake; and Matt Gyory's (Washington, DC) – Raspberry Rhubarb Pie was represented by Jessica Selinkoff at the finals while Matt was on his wedding honeymoon.  Runners Up received a copy of the King Arthur Flour Baker's Companion:  The All Purpose Baking Cookbook.
FINALS JUDGES:  Austin Brown, first-prize winner of the 2012 Makes-Me-Wanna SHOUT! Chocolate Layer Cake Challenge; Girl Meets Food founder/editor Mary Kong De-Vito; Rebecca Layton Gunter, president/CEO, operation:  eatery; WUSA9 noon anchor J.C. Hayward; Brenda Rhodes Miller, author, The Church Ladies' Divine Desserts and Sweet Recollections; James Beard Award winner Joan Nathan, author Quiches, Kugels and Couscous: My Search for Jewish Cooking in France; Andy Shallal, owner, Eatonville Restaurant.
Sponsors for the 2013 Makes-Me-Wanna SHOUT! Pie Baking Challenge include Eatonville Restaurant, King Arthur Flour, operation: eatery, Foggy Bottom Whole Foods Market, J.C.Hayward.com, Foodshed magazine, Girl Meets Food (blog), Church Lady Cake Diaries (blog), and FoodMuse Media.  Individual sponsorships were made via an Indiegogo crowdfunding campaign.
The Makes Me Wanna SHOUT! Pie Baking Cake Challenge is presented with Eatonville Restaurant and a production of Michon Boston Group Ltd.  Over 20 applications were submitted to the contest with recipes and pie stories. The contest required all pies to be made from "scratch" and recipes to include a minimum of one cup of flour.  For more information visit www.shoutbakingchallenge.com.  Twitter @mmwsbaking.  Find us on Facebook.
If you enjoyed this article, please consider sharing it!