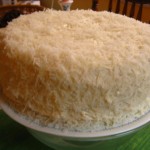 I'm an event and video producer, writer, occasional baker, and "foodlorist." I was born in Washington, DC and in the AME church. I now attend a Unitarian Church. My family roots are very deep in the state of Virginia so I consider myself a southerner. I'm a member of the Southern Foodways Alliance and I was involved in the launch of Eatonville Restaurant's Food and Folklore series which I hosted from it's first event in November 2009 to April 2010. Yes, I'm a "Zora-head." [ref. author, folklorist, anthropologist Zora Neale Hurston]
You can read more of my musings on my blog www.eclectique916.com, or the Eatonville Restaurant Food Stories blog (tales from the kitchen).
And yes, that's my coconut cake in the pic. Found the recipe on-line. It's from the Shubox Cafe in Cedar Grove, NJ. It is known as Awesome Coconut Cake. I like a buttercream frosting on mine and fresh crushed pineapple (drained) between the layers.