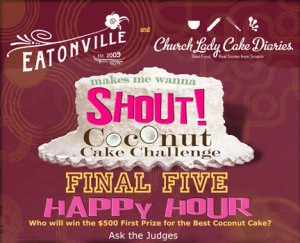 Wednesday, April 27, 5 – 7 PM
Eatonville Restaurant
2121 14th Street, NW
Washington, DC 20010
Join us at Eatonville Restaurant for a special Happy Hour event. Find out which of the five coconut cakes will make our judges SHOUT! and win the $500 grand prize for the baker and their winning cake on the Eatonville Restaurant menu.
THE FIVE FINALISTS
Coconut Cake (with optional Lemon Filling); Cream Cheese Frosting
Decoyise Brown (Waldorf, MD)
Coconut Cake with Pineapple, Bananas, Toasted Coconut, Sugared Pecans
Christine Perez (Washington, DC)
Coconut Cake with Key Lime Mousse Filling; White Chocolate Cream Cheese Frosting
Alexis Echols (Washington, DC)
Coconut "Oatmeal Cookie Cake"; Brown Sugar Frosting with Nuts
Lindsey Wahowiak (Washington, DC)
Chocolate Coconut Macaroon Cake
Stephanie Woodrow (Washington, DC)
Drink Specials. Bar Food Specials. A portion of the sales from 5 – 7 PM will benefit Miriam's Kitchen. Reservations recommended. Call 202-332-9672.
Meet our Judges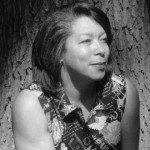 Brenda Rhodes Miller, author of The Church Ladies' Divine Desserts and Sweet Recollections, The Laying on of Hands, and The Church Ladies' Celestial Suppers and Sensible Advice. (March 19, April 27)
Anas "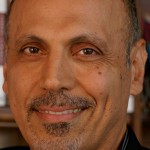 Andy" Shallal, owner Eatonville Restaurant and Busboys and Poets. Eatonville Restaurant " The Soul of Southern Food," was opened in 2009 and is inspired by the life and writings of Zora Neale Hurston, a prominent writer, folklorist and anthropologist of the Harlem Renaissance. Eatonville is named for Hurston's Florida hometown and the country's first, post-Civil War, African American incorporated town and the focal point in her most famous work, Their Eye Were Watching God. (March 19, April 27)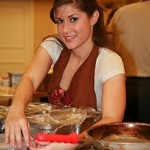 Lauren DeSantis
combines her passions for food and television in "
Capital Cooking with Lauren DeSantis
," a television series highlighting the culinary and cultural riches of our nation's capital. In each episode, Lauren takes viewers gastronomic journey to cook with the best chefs of D.C., Washington insiders and more. She is a lawyer by day and host/producer of her television show on the weekends. Lauren grew up in an Italian family in St. Louis, Missouri, where eating well was the key to every family gathering. (April 27)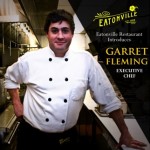 Garret Fleming
, Executive Chef for
Eatonville Restaurant
,
is a graduate of the Culinary Institute of America and has worked at the 4-star Peninsula Grill in Charleston, SC under acclaimed Chef
Robert Carter
, creator of the world-famous "Ultimate Coconut Cake." Prior to Eatonville, Chef Fleming was Executive Chef at Stella's in Castine, Maine. (April 27)
Additional judges for the April 27 Makes-Me-Wanna SHOUT! Coconut Cake Challenge Finals will be announced.
Special thanks
for donations to the makes-Me-Wanna SHOUT! Coconut Cake Challenge events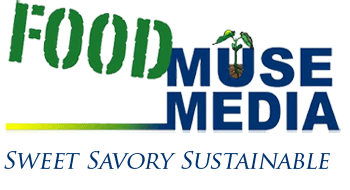 Denyce Graves (Mezzo-Soprano)
Becky Squires