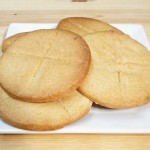 Sting's recording of "Soul Cake" for his 2009 release "If A Winter's Night" is one of my favorite holiday cooking tracks during the season of night and light. Got a late start on the fruit cakes due to a home repair/renovation project, but I managed 4. One has already been gifted even […]
Continue Reading

→
It's On!!!
[This post has been updated from January 27, 2011]
Hang onto your mixing bowls! The Makes-Me-Wanna SHOUT! Coconut Cake Challenge will put an extra bounce into your Spring. Presented by Eatonville Restaurant — The Soul of Southern Food— and Church Lady Cake Diaries, the challenge invites amateur bakers from the Washington, […]
Continue Reading

→
Yesterday, I saw a stack of Gingerbread men kits at Trader Joe's not even on the 1/2 price shelf, but on a cart to be shipped to where expired G-men go. As late as last week, I had Starbucks holiday gingerbread latte knowing gingerbread's days were numbered. Or are they?
Continue Reading

→
Currently viewing the category: "Folklore"