Remembering "The Belle of Amherst"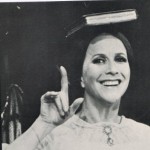 (SHE places the cake on the tea cart.)

Black cake: two pounds of flour, two pounds of sugar, two pounds of butter, nineteen eggs, five pounds of raisin, one and a half pounds of currants, one and a a half pounds of citron, one half point of brandy—I never use Father's best—one half pint of molasses, two nutmegs, five teaspoons of cloves, mace, and cinnamon, and oh, yes, two teaspoons of soda, and one and a half teaspoons of salt. (Pause.) I'm sorry, am I going too fast? (Removing her apron.) Just beat the butter and sugar together, add the nineteen eggs, one at a time—now this is very important—without beating. Then beat the mixture again, adding the brandy alternately with the flour, soda, and spices, and salt that you've sifted together. Then the molasses. Now! Take your five pounds of raisins, and three pounds of currants and citron, and gently sprinkle in all eight pounds—slowly now—as you stir. Bake it for three hours if you use cake pans. If you use a milk pan, as I do, you'd better leave it in the oven for six or seven hours. Everybody loves it. I hope you will. Thank you for asking.

(SHE hangs her apron on the back of the chair. Then SHE sits down and pours tea.)
from "The Belle of Amherst" a one-woman play by William Luce (1976)
"The Belle of Amherst" is one of my favorite plays — as Julie Harris captured poet Emily Dickerson in a one woman show that I saw for the first time on PBS. "The Belle of Amherst" was actually the first one-person play I'd ever seen. The play was also the first I'd heard of "Black Cake." I was totally captivated, especially when SHE talks about cake. As my holiday fruitcakes are in the last stages of the bourbon soak before we start gifting and devouring them, I'm always reminded of the specialness of the cake and the people who enjoy the dense, chewy dried fruit, and smokey warm flavors of dark cakes. In "The Belle of Amherst," playwright William Luce includes Emily Dickinson's recipe for Black Cake from start to finish. Is this really a fruitcake? The traditional wedding cake of Jamaica?
Apparently, the accomplished poet was also an accomplished baker.
Read more about Emily Dickinson's Black Cake in this
Washington Post article
. Or, how about Emily's
"cocoanut" cake in Bon Appetit
. She also had a thing for
Gingerbread
.
Since seeing Julie Harris I've always wanted to try the Black Cake recipe just as Harris recites it in her monologue. If you give any of these a go, in the kitchen and/or on the stage, do report in. The twitter site may be the best place @churchladycake.
Or watch it for yourself, just as I saw it the first time!

If you enjoyed this article, please consider sharing it!