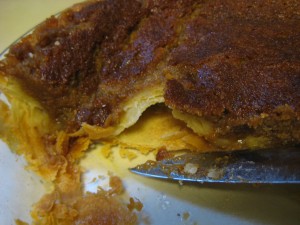 What better way to bring in National Pie Day but with the story of a pie baking disaster. Two days ago I attempted to bake two sweet potato pies. Let me say, though this blog welcomes pies and pie stories, the true nature of its being is with cake. I can turn out a decent sweet yet slightly tart apple pie using Julia Child's Pate a Croustade from the French Chef Cookbook. And the pumpkin pies rise to the occasion for the holidays.
First, I thought I could out shine the elders by finding a sweet potato pie recipe that would top the best they could offer. This one required whole sweet potatoes measured by the pound. That's a first for me even though I bought a digital kitchen scale just for this kind of cooking. There lay my disaster. Pounds, ounces, kilograms, grams? How many potatoes? Math was never my strongest subject. I should've suspected something was wrong by the texture when the sweet potatoes and the butter met. Add to that 2 cups of white sugar and one of brown. Was I making a pecan pie minus the pecans?
The crust looked perfect even in the plate. Julia's was actually the first crust I ever made. It makes my apple pie taste like more than dessert. Perhaps that's because the crust is really meant for quiche. Oh, did I forget to punch holes into the bottom of the crust with a fork? Yep, sure did.
So after over an hour in a 375 degree oven, what I had on my hands was two pie plates of sweet hot mess. I think my pride was hurt more than my palate. If it's something sweet you want, they aren't too bad two days later.
Where as I may need to brush up on my pie baking skills and recruit some pie tasters, I learned a valuable lesson. Ask your elders. As the home baking pros. Of course my mother smelled disaster the minute I said "recipe." Actually, my pie story begins with her sister, who bought a whole pumpkin when I said I wanted pumpkin pie. Baking wasn't my aunt's thing. It was always hit or miss with cakes falling in the center. Yet another sweet hot mess. But once the cake cooled, we took our forks out and dug in anyway.
I hope pie bakers in the DC metro area will show us (and me) how it's done by entering the 2013 Makes-Me-Wanna SHOUT! Pie Baking Challenge presented with Eatonville Restaurant. First prize is $500, $250 Gift Card from King Arthur Flour, 3-hour consultation with Operation: Eatery on getting a baking business up on the right foot, and your dessert pie on the Eatonville Restaurant menu. No fee or purchase necessary to enter. Just your contact information, pie recipe and pie story. Entry forms are due February 4, 2013. 12 semifinalists will be selected to bake.
My pie disaster should give you incentive.
If you enjoyed this article, please consider sharing it!