Cracking Up about Cracking Open Coconuts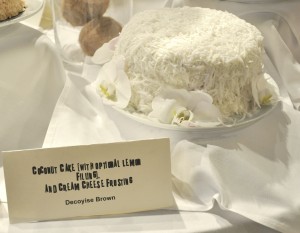 I'm psyching myself up to bake another layer cake.  This time, it's Decoyise "Dee" Brown's winning coconut cake from the 2011 Makes-Me-Wanna SHOUT! Coconut Cake Challenge.  I printed the recipe that was published in the Washington Post last year.  I also checked in with Decoyise.  She's making a coconut cake this weekend too.  The coconut cake is really a birthday cake for my sister. Since her birthday is two days after Easter, we might as well make it the Easter treat as well.  I have to admit, I'm anxious about cracking open fresh coconuts.  I've heard and seen all kinds of techniques from throwing them on the pavement until the shell gives, to a couple of solid wacks with a hammer and separating the shell as if it was a soft boiled egg.  Some people have all the talent.
I checked on YouTube for some techniques and thought I'd share a few how-to videos on this post.  Feel free to share your technique for opening coconuts and separating the meat.
Let's start with the cooking pros at Gourmet
Opening a coconut can make you look years younger.
Friends don't let friends open coconuts and drive.

If you enjoyed this article, please consider sharing it!