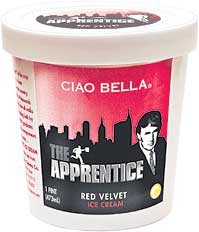 Don't hate me for saying this, but the first time I ever heard of Red Velvet Cake was on the reality show "The Apprentice" nearly 8 years ago. In the episode "Scoop Dreams," Donald Trump gives two teams — the all-female Apex, and all-male Mosaic — the challenge to come up with new flavors for Ciao Bella. Whichever team sold the most ice cream won the challenge. The Apex team chose "Red Velvet" as a flavor. One of the teammates suggested it because it was a "Southern favorite." Mosaic chose "Vanilla Dream Donut." Just the name "Red Velvet" sound dreamier to me than a donut. But the men's strategic moves and hustle won the challenge and the women were sent to the board room for the firing act. Not to miss a marketing opportunity, Donald Trump's face was slapped on pints of Ciao Bella ice cream in the two Apprentice flavors. Apparently The Donald and Ciao Bella had a better marketing plan than the Apex team. Both flavors sold well in grocery stores.
But Janet Keeler of the St. Petersburg Times in Florida, had this to say about the "Scoop Dreams" challenge:
We'd fire them both.

The doughnut ice cream left a bitter aftertaste, something we expect Fort Lauderdale attorney Bradford Cohen experienced after being tossed from the show for being stupid. Red Velvet fared better, but us folks in the South know red velvet as dense chocolate cake with gobs of red food coloring and cloying cream-cheese frosting. This ice cream is white chocolate with raspberry, but we didn't taste much chocolate.
I'm with Keeler up until we get to red food coloring. It took me years to find a Red Velvet cake that left it to fate or science for the combination of ingredients to create the reddish hue with a smooth cocoa flavor. I stayed away from those RED, Red Velvet Cakes. But I kept my eyes and plate clear for the right one and just this year, it showed up. My sister sent me a link to a recipe posted on Gilt Taste for "The Original Red (Wine) Velvet Cake." The recipe is by Stella Parks, a Culinary Institute of America graduate who describes herself as receiving high marks in "Playing with Chocolate" and "Baking Yummy Things." She's currently pastry chef at Table 310 in Lexington, KY. She also has her own blog, bravetart.com.
I knew I'd found a kindred spirit in Stella when I read the introduction to the recipe:
The Red Velvets I ate as a Southern child had garish color and dryness worthy of a "Got Milk" commercial—they tasted about as good as eating actual velvet. But recently, I found that the cake has a more dignified history: The "red" in the name originally referred to "red sugar," an old term for what we know as brown sugar. At its heart, Red Velvet was a cocoa cake with a warm, molasses-like sweetness. I set out to reclaim that goodness with a recipe that harkens back to the original.
To back up her point, Stella did an additional post about the history of the cake, titled "The Unknown History of Red Velvet Cake. No beets, no sugar shortages. How America's most nostalgic cake really came to be." Stella dispels the legend that the cake was first created in the Waldorf-Astoria hotel. She even subdues the science of "red" cake:
Sure, with a name like Red Velvet, you do expect a certain hue. And cocoa's natural pigment, anthocyanin, does tend toward red in the presence of acids like buttermilk or vinegar, which are almost always in traditional Red Velvet recipes. But using just these ingredients, the color is faint; the red of Red Velvet had more to do with naming flourishes and symbolism than coordinates on a color wheel.
But the most telling tale of the Red Velvet Cake that Stella mentions is the appearance of red food coloring. The Red Velvet we know today is yet another story of strategic marketing by a company named for John A. Adams (not the POTUS who could sign it into law).
His family-owned food colorings and extracts business had fared well since its inception in 1888. But housewives of the Great Depression had little use for his brand of frivolity and sales slumped. So he began setting up displays in groceries throughout the Midwest and parts of the South. These featured Adams Extract Company products under a huge color photo of the reddest Red Velvet cake ever seen. A free copy of the recipe (modified to include Adams Best Vanilla, Adams Butter Flavor, and two bottles of Adams Red Color) came with every purchase. In the austere climate of the day, Red Velvet became a sensation.
According to Adams Extract company's website (yes, they still exist), Adams was a pharmacist who started his company with vanilla extracts.
But for me, flavor and taste will trump appearance. Though I knew I could not recreate Stella's Red (Wine) Velvet Cake appearance wise, I could tell by the recipe I would not be disappointed flavor wise. As you can see, mine looks more "rustic" than the restaurant version. The Red (Wine) Velvet Cake has a generous amount of cocoa (1/2 cup) and red wine (Zinfandel is recommended). No milk in the cake. Real vanilla beans (plus the seeds) and vanilla extract. The German Buttercream frosting starts off with a custard, followed by the cream cheese and butter. The final cake is dusted with fine white chocolate flakes (grated on a parmesan grater). Speaking of butter, did I mention this cake has 2 lbs of butter? One pound in the cake; one pound in the frosting. Is the cake RED? No, but it reminds me of how some people who are already brown describe themselves especially after a few days in the Caribbean — red undertones. Definitely the crumbs had that cocoa red hue. The chocolate I used was Michel Cluizel (71% cocoa) donated by my sister. The wine was Ravenswood Zinfandel, a personal favorite. It took me 10 hours to make (prep + actually cooking). It was quite the workout. Worth every minute.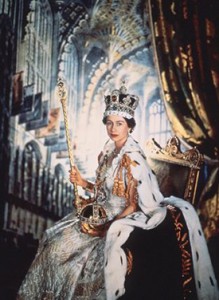 This was a first for me on so many levels. The first custard I ever made. The first Red Velvet. And I believe my first chocolate or cocoa cake. I always baked brownies for the chocolate fix and preferred a yellow cake or various spice or flavored cakes. Unlike our marketing pros, I didn't sell a single slice – by choice. That's the Church Lady Cake way. This was the Valentines Day cake. I gave most of it away — to save myself as well. Once I started cutting off thin slices before breakfast, I knew I was in danger. This was not a RED Red Velvet Cake; it was a real Red Velvet Cake with cocoa flavor, not too sweet, but wonderful finish thanks to the dusting of white chocolate and the addition of the chocolate nibs which Stella added to give the appearance of a royal ermine cloak.
Of course, ermine and red velvet are the tradditional trappings of English royalty…
Well, for my cake, those nibs were just delicious!
Check out Stella Parks' Red (Wine) Velvet Cake recipe. It's the real deal. No marketing gimmicks.
If you enjoyed this article, please consider sharing it!