Sting's recording of "Soul Cake" for his 2009 release "If A Winter's Night" is one of my favorite holiday cooking tracks during the season of night and light. Got a late start on the fruit cakes due to a home repair/renovation project, but I managed 4. One has already been gifted even though I thought it could use a little more time in the bourbon wrap. But what's this "soul cake" business? Is it "soul food" or food for the soul?
Sting says in his liner notes "Soul Cake" is originally a Halloween song sung by children as they go door-to-door collecting treats. Here are the lyrics.
A soul cake, a soul cake,
Please, good missus, a soul cake.
An apple, a pear, a plum or a cherry,
Any good thing to make us all merry,
A soul cake, a soul cake,
Please, good missus, a soul cake.
One for Peter, two for Paul,
And three for Him that made us all.
God bless the master of this house
And the mistress also
And all the little children
That round your table grow;
The cattle in your stable,
The dogs at your front door,
And all that dwell within your gates
We'll wish you ten times more.
A soul cake, a soul cake…
Go down into the cellar
And see what you can find;
If the barrels are not empty
We'll hope that you'll be kind;
We'll hope that you'll be kind
With your apple and your pear,
And we'll come no more a-soulin'
Till Christmas time next year.
A soul cake, a soul cake…
The streets are very dirty,
Me shoes are very thin,
I have a little pocket
To put a penny in;
If you haven't got a penny
A ha'penny will do,
If you haven't got a ha'penny
Then God bless you.
This week Jennifer Cutting, composer, band leader, ethnomusicologist who also works in the Folklife division of the Library of Congress, talked about her recent album is "Song of Solstice" on WAMU's "Kojo Nnamdi Show." Jennifer shares her winter wisdom in the tracks:
"Song of Solstice" is like a little winter survival package. The keys to surviving the darkness and the cold are — oh, there are about three things we can remember, and one is that the darkness brings its own gifts. If we can honor those and be grateful for the darkest parts of the year, we're already in a better frame of mind, and the gifts of the darkness are — it's a fabulous time for turning inward, just like the sap withdrawing to a place deep within the tree."
As a fan of "Spinal Tap", no doubt her "Song of Solstice" track was inspired by "Cups and Cakes."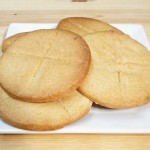 On the Historical Foods website, a soul cake is a small round cake that resembles a biscuit or cookie traditionally made for All Souls Day (November 2). The cakes were given to the poor and hungry especially children who sang the song for the dead. We now call this "Trick or Treat." The post also includes a recipe:
Souling Cake Recipe
Makes 14 large 'cakes'
Recipe Ingredients:
340g plain flour (sifted)
170g sugar
170g butter (softened & diced)
1/2 tsp ground cinnamon
1/2 tsp ground mixed spice
1/2 tsp ground nutmeg
1 egg (beaten)
2 tsp of white wine vinegar
Recipe Method:
Preheat the oven to 200C and grease 2 flat baking trays
Thoroughly mix all the dry ingredients into a mixing bowl – sifted flour, spices, and sugar. Rub in the diced butter until the mixture resembles fine breadcrumbs. Add in the beaten egg and white wine vinegar and mix with a wooden spoon until a firm dough is made. Then cover it and put it in the fridge for 20 minutes.
Flour a working surface and roll out the dough to 7mm thick and using a large round pastry cutter cut into rounds, (optional: use a straight edge to press into, and then draw a cross shape, in the top of the dough). Place these rounds on the greased baking tray and bake in the oven for 15 to 20 minutes at 200C until slightly coloured. Serve warm or cold.
If you enjoyed this article, please consider sharing it!