It's On! 2012 Makes-Me-Wanna SHOUT! Baking Challenge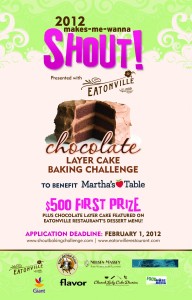 The entry form is live and the contest begins for the best chocolate layer cake in the DC metropolitan region. Church Lady Cake Diaries is now a media sponsor for the Makes-Me-Wanna SHOUT! Baking Challege. Additional sponsors for the challenge include Eatonville Restaurant (who will feature the winning cake on their menu), King Arthur Flour, Nielsen-Massey Vanillas, Giant Food, Flavor Magazine, JCHayward.com, and FoodMuse Media. The 2012 beneficiary is Martha's Table.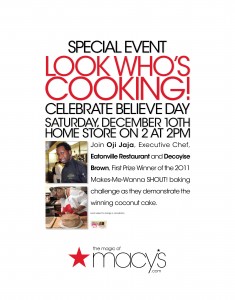 The contest will have its first public promotional event Saturday, December 10 from 2 – 4 PM for Macy's Believe Day at Montgomery Mall (7125 Democracy Blvd., Bethesda, MD). The 2011 coconut cake challenge winner Decoyise "Dee" Brown will demonstrate how to bake her winning cake with Eatonville's executive chef Oji Jaja (who makes a pretty delicious coconut shrimp appetizer). Free cake samples and entry form brochures will be available at the event. There is no fee to enter. Entry forms must be received by February 1, 2012. Visit www.shoutbakingchallenge.com for more information.
You may want to warm up for the challenge with "Dee" Brown's Buttermilk Chocolate Cake which was published in the Washington Post earlier this year. This cake won't be competing. Dee joins the panel of official judges for the 2012 challenge.
If you enjoyed this article, please consider sharing it!