Coconut Cake Stories (Part 1)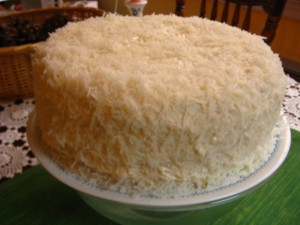 Food memories enhance food flavor and enjoyment which is why the Makes-Me-Wanna SHOUT! Coconut Cake Challenge is not just your everyday bake off. It's a gathering place for food stories and new memories. For the next 4 days, this site will feature excerpts from the food stories submitted by our 14 Coconut Cake semifinalists who will share their cakes Saturday, March 19 at Miriam's Kitchen.  Purchase a ticket today for a special cake memory.   Support Miriam's Kitchen.  Let your tastebuds do the cake walking.
——————-
I'm a southerner that sometimes feels adrift in the hustle and bustle of the straight-laced, buttoned-up world of the nation's capital. I love so much about D.C., but I can't ignore that part of me that longs for the soul, passion, and hospitality of the South. Raised in Alabama, steeped in the tradition of all things "down home," I know how many stories and how much love are contained in just one bite of a good piece of cake! Baking has become my way to travel back home whenever I need to enjoy those stories or feel that love. It's also become my way to share my own stories and love with my new friends and family in D.C.
Alexis Echols, Washington, DC
Several years ago, I was approaching one of those big birthdays, that end in a zero and make you slow down and take stock of your life.  At the time I was working way too many hours in my hermetically-sealed downtown office, and not nearly enough hours indulging in my passion, which is cooking and baking, and feeding the people I love.  So for my birthday, I took a day off and spent it in the kitchen, baking myself a cake to share with my friends at the party my husband had planned in my honor.  It had all of my favorite flavors— coconut, chocolate, almond— and pulsed with the kind of silky richness that should really be savored mindfully, maybe even silently, with each bite.      It was a wonderful celebration, kicking off a decade of change in my life, taking more time to do the things I love, with the people I love.

Jennifer Beckman, Falls Church, VA
I have never been to a church cake sale, but at my synagogue we always had cake walks during fairs and events, where participants would walk along numbers until the music stopped. The emcee would call out a number, and whoever was standing on that number would get to choose a cake. It was always one of my favorite activities at fairs.

Jennifer Cohen, Washington, DC
Just the sound of Aunt Mildred's voice would have the entire family to our feet trying to catch a peek of the delectable deserts she would bring to Momma's Sunday/Holiday dinner.    Her signature Coconut Paradise Cake was made only on the most special of occasions.  Coconut Paradise Cake was always the first to go….

After Aunt Mildred's passing, special occasions were never the same.  Collectively, we decided that we needed to find a way to keep her joyous presence alive.  Finally, after many trials we successfully replicated both the heart and the soul of the Coconut Paradise Cake.

Aurelia Joel Gilbert, Upper Marlboro, MD
Growing up my home always was filled with the smells of rich, decadent desserts my mother was creating in the kitchen, from elegant chocolate soufflés to simple chocolate chip cookies.  She had only two rules in the kitchen: make it good and make it fun.  To this day I only use her mixer when making treats for my family and friends to enjoy.  And while she isn't in the kitchen with me, her spirit and rules always are.


Stephanie Woodrow, Washington, DC
If you enjoyed this article, please consider sharing it!