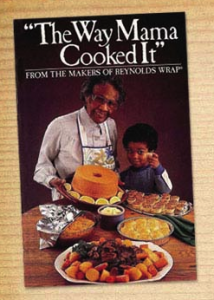 "The Way Mama Cooked It" is one of my most reliable comfort food recipe books.  It was published by Reynolds Kitchens in 1981 compiling the best  savory and sweet recipes from African American home cooks who entered the Reynolds Wrap Kitchens recipe contest.  There's no story narrative included with the recipes or cooks' bios.  The food speaks for itself in terms of heritage cooking and flavor.   Want to know where my pound cake recipe comes from?  Nancy V. Oakman of Alexandria, VA and her "Old Fashioned Pound Cake.
The cook-off was held at Hampton Institute, an HBCU (Historically Black College University) in Hampton, VA.  Venezuela Newborn, former food editor of Essence Magazine, was one of the judges.  The grand prize winner of the cook-off was "Sunday Pot Roast" submitted by Rubie Jamison of Memphis, TN.  25 second place winners are featured in the cookbook.
My paper copy of the pound cake recipe is torn around the edges and has yellowed.  I put it in a plastic sheet protector.  On the other side is Sabrina Williams of Washington D.C.'s "Mother's Old Fashioned Apple Pie."   Considering how often I use the cake recipe, I'm glad to say I can download the recipe book from this link.  You do have to enter your name and email information to access the pdf file.
There's been a bit of controversy and debate around when and where to serve foods from African American traditions, starting with  fried chicken.   (BTW Martin Luther King, Jr. loved pecan pie.)  At this time, Reynolds is "Honoring Black History Month" with the re-release of "The Way Mama Cooked It."  As someone raised in these food traditions, I'm thrilled.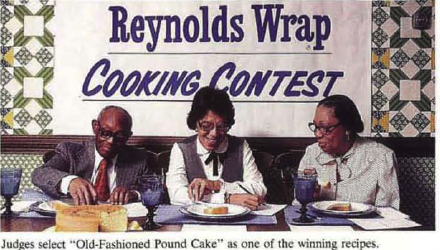 If you enjoyed this article, please consider sharing it!