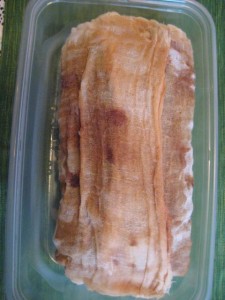 The fruit cakes have been wrapped in their bourbon-soaked cheese cloths (or swaddling clothes) for almost a week. The taste test will be coming up soon, but I've been advised, the older the fruit cake, the better the flavor. I understand my aunt Florence would serve the old fruit cake after New Years with a homemade caramel sauce.
These are my first fruit cakes: one with pecans on top; one without nuts. Perhaps I should've used cherries in the jar. For some reason, I got this idea to include dry tart cherries, plumped up again with a cognac soak. Hmmm. Stay tuned for the unveiling.
Meanwhile, Christmas in Washington has less to do with bright lights and big city jingle than it does with baking. From the top down perspective, the First Family unveiled this year's gingerbread house with a wonderful video produced from inside the White House kitchen. Gingerbread seems to be all over the city these days. At one time, it was confined to home kitchens and a few eccentric old schoolers. Maybe the gingerbread latte sparked the populist taste buds.
If you enjoyed this article, please consider sharing it!